THE HELLFREAKS (H) + KALAPI (D)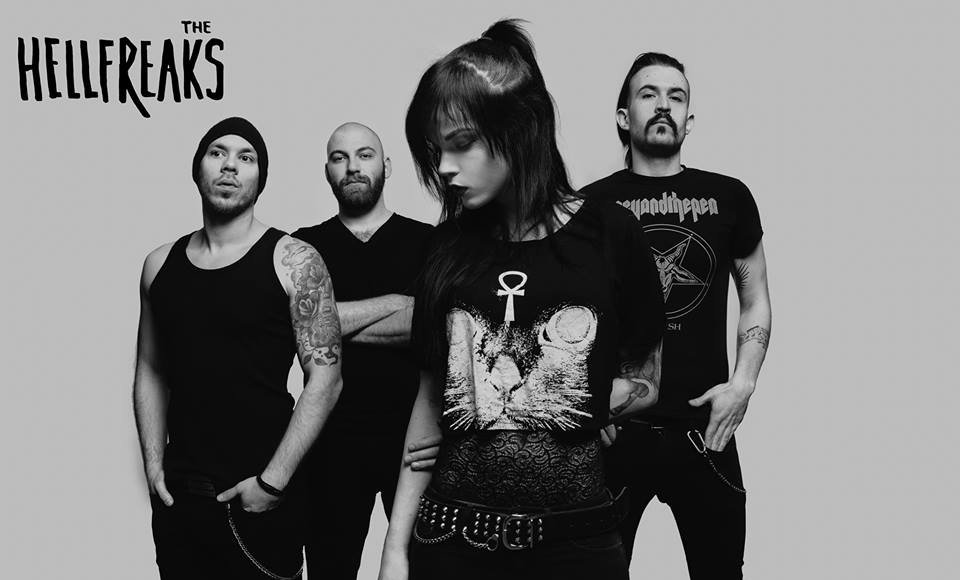 HELL WAS FULL SO THEY CAME BACK!

And what a comeback!

Their return to this world began in February 2009 when Shakey Sue and her guitarist decided to amp up the sophistication of the music they were playing as members of an established surf-psycho band. Sue abandoned her drumsticks and the guitarist grabbed his Gretsch and after teaming up with two other friends who were rocking the punk world the Hellfreaks were born.
-
Rather than trying to hide their horns any longer, they combined their musical roots in punkrock, psychobilly and metal and the result was a hard hitting sound that they call their own.

During the summer of 2009 they recorded their first demo. That very same year the Program For National Contemporary Music Culture in Hungary invited applications music and motion pictures. Despite over 180 submissions, The Hellfreaks won the competition which gave them the funding required to produce their first music video for their single "Boogie Man" which instantly resulted in over 2,500,000 views on Youtube. The video became one of the most viewed psychobilly videos ever!

At the beginning of 2010 the band released their debut album "Hell Sweet Hell" which went to almost immediate success being sold to fans from Alaska to Australia, from Budapest to Birmingham.

After another 2 years of touring, the world was ready for their next album "Circus Of Shame" recorded on Longneck Records. A mix of punk rock and psychobilly a healthy touch of "take it or leave it", alternative model and vocalist Shakey Sue and her 3 partners in crime set out to take their fans by storm and tell the critics LISTEN TO THIS NOW.

2013 they recorded their second video-clip in France/Montpellier for the song "Godless Girl's Fun", directed by Enguerran Prieu, participator of the Cannes Film Festival 2013.

The Hellfreaks continue to show fans across Europe and USA that as a hard touring band they can draw and play to audiences regardless of geography. The have performed in almost every European country, from small clubs to major festivals such as the WGT & Force Attack in Germany, the Psychobilly Meeting in Spain, Club Sin in Finland, Warhead in Poland, Pod Parou in Czech Republic, The Whoolwich Grand Theater in London, Bedlam Breakout Festival in Northampton and countless other venues.
After a split up by end of 2014 and a period of a creative re-invention the band is came back with new members, a big portion of punkrock attitude and started with a tour through the USA in Summer 2015. The Hellfreaks toured in California, Arizona, Nevada and played at Ink'n Iron Festival in Long Beach as well.

Now recording on Wolverine Records, the band are mature enough to respect the true roots of their genre and continue to show an understanding that there is no free ride. At the same time they stand their ground on stage and kick ass with an amazing power package of butt slapping music!

Formed: 2009
From: Budapest, Hungary and Berlin Germany
Genre: Punkrock / Psychobilly / Metal

Aktuelle Besetzung:
Shakey Sue - Vocals
Bánhegyi Tamás - Guitar
Domján Gabi - Bass
Szumper Ákos - Drums

Stil (jetzt): Modern Punkrock with female vocals

Aktuelles Album "Astoria" (2016)

KALAPI
ist kein indischer Prinz und auch keine polynesische Hafenstadt. KALAPI ist die Punkrock-Band aus Bayern, die seit 2015 mit ihrem ersten in Eigenregie produzierten Album in Deutschland auf Tour ist. Von Stadt zu Stadt finden die vier Musiker samt Band-Hund immer neue Freunde. Sie spielten sich von kleinen Bühnen in größere Clubs (z.B. Backstage München, Plutonium Strasskirchen u.v.m.) und auf diverse Festivals und erspielen sich auch als Vorband von bekannten Bands neue Fans.
Im April 2017 ist die Veröffentlichung einer neuen Platte anvisiert. Diese soll natürlich auch in Stuttgart präsentiert werden!
Die Live-Performance von KALAPI wurde bereits im Vorprogramm von Bands wie Staatspunkrott, Abstürzenden Brieftauben, Lustfinger oder Extrabreit aufgenommen und durchwegs mit positivem Feedback beurteilt. Die ehrliche gute Stimmung auf der Bühne überträgt sich leicht auf das Publikum. Vor allem, da die Melodien von KALAPI sich ins Ohr schrauben, dass oft bereits beim zweiten Refrain mitgesungen werden kann, auch wenn man die Band vorher nicht kannte.
Eingeladen wird zum tanzen, feiern, träumen und nachdenken. Ihre Lieder und Texte lassen dem Zuhörer die Gelegenheit, sich selbst darin zu verwirklichen. VVK


Vorverkauf (VVK) zzgl. Geb. an jeder CTS(eventim)-Vorverkaufsstelle in Deutschland oder beim Eventbüro Stuttgart (im Wittwer, 1. Stock / Schloßplatz).
Versand per Post ebenso über www.eventbuero.com
Hardtickets bei Ratzer Records, Saturn, Flaming Star und Bonnie & Clyde in Stuttgart!
Weiterführende Links
https://youtu.be/nbtdi0zzhM8 (The Hellfreaks)
https://youtu.be/D6_LJdYWlu0 "
https://youtu.be/steZ7oJDoAc "
https://youtu.be/Qr7CvojaliA "
https://youtu.be/fgqyVzj5kg4 "
https://youtu.be/t6_WZhnYtes "
https://youtu.be/3kXHHgv8NOw "
https://youtu.be/62UZKTsbPOM "
https://youtu.be/h8Tr0PAjg7k "

https://youtu.be/iwmtt74JInk (Kalapi)
https://youtu.be/5KBU1wdJqtI "
https://youtu.be/zcwY1QZMnFM "
https://youtu.be/Rjgke-5WTyM "
Preis VVK: 12 Euro (ggf. zzgl. Gebühr)

Eingetragen von:
stuttgart rock promotion
Alle Angaben ohne Gewähr!