BLOODLIGHTS (N) + POISON HEART (PL)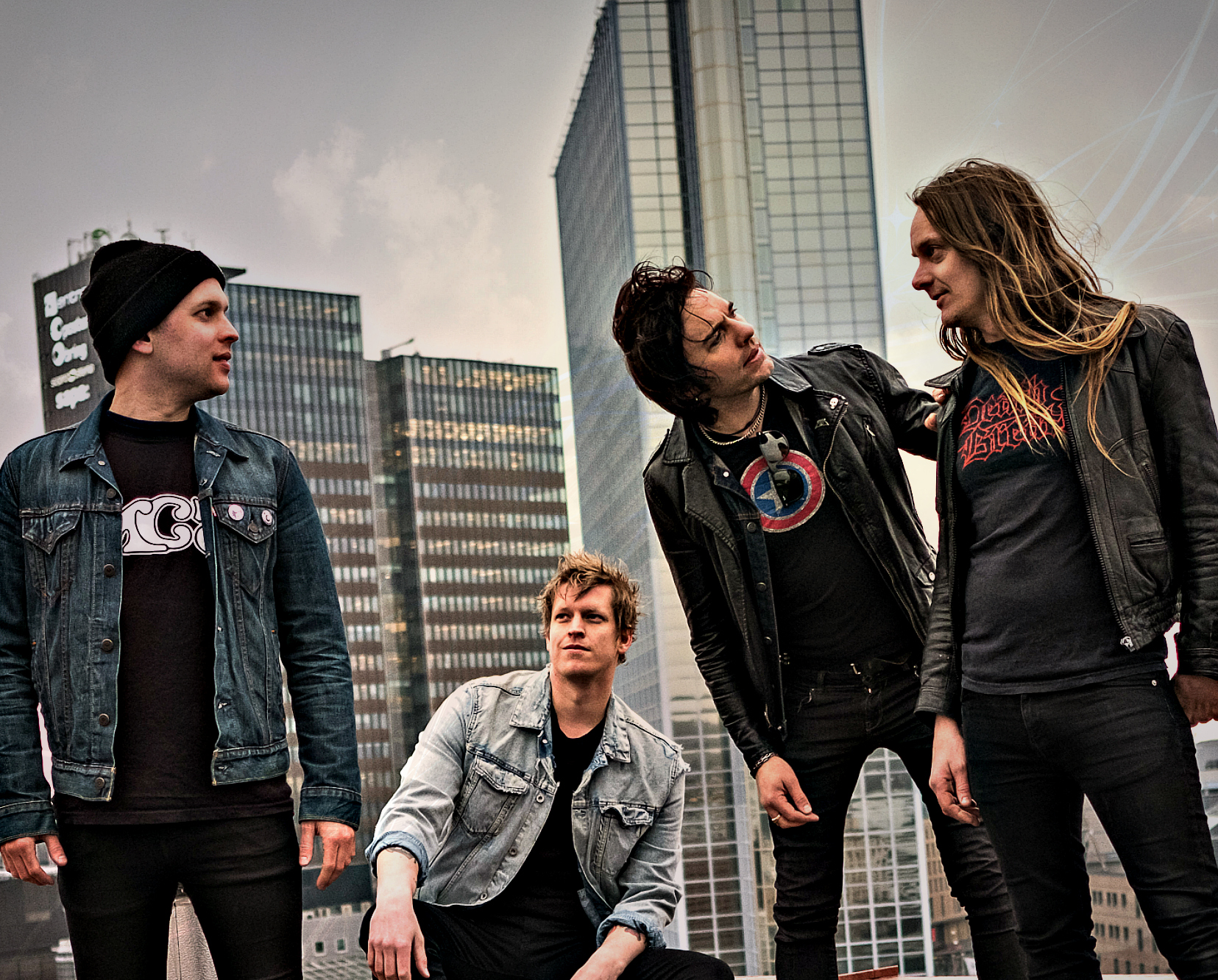 BLOODLIGHTS
As the Norwegian hard rockers Gluecifer decided to call it quits in 2005, songwriter and guitarplayer Captain Poon quickly announced he´d be back with a new band. Bloodlights, a name he developed from some peculiar "on the road blackouts" during endless touring with Gluecifer, released their self titled debut early 2008.

With his new band, the Captain took the step into the centre of the stage as both lead singer and guitar player. Founding member and guitarist Howie B., drummer Woody Lee, and bassplayer Chis Banjo are now making the Bloodlights engine rock more steady than ever.

In May 2017 Bloodlights released their fourth album «Pulling No Punches». The album has gotten amazing reviews and has put Bloodlights on the rock´n´roll map for real.
Four records, a mini-LP, and a handful of 7inches should leave no doubt that this band is in it for all the right reasons, and Bloodlights sure is rock´n´roll band to rely upon.

Captain Poon puts it this way: «I never had any masterplan on anything I´ve done so far. If people like what I do it´s great, and it´s nothing I can appreciate more than the devoted people I meet . That being said it´s never been an easy ride playing in a rock´n´roll band. If you´re in it for anything else but the love of music you´d probably be disappointed.»

Bloodlights are psyched to hit the road to support their brand new release. A string of Spanish dates are in the pipeline, including a show at the amazing Azkena Rock Festival, where they share the bill with bands such as The Cult, The Hellacopters, Cheap Trick and Graveyard.
In August they´ll appear at the Turbojugend Welttage along with their hometown buddies, Turbonegro.

POISON HEART
Die Punk 'n' Roller aus Warschau/Polen kommen im Winter 2016 für ihre dritte Tour nach Deutschland. Die Band tourte bereits mit unter anderem "Turbo AC's & Reno Divorce und man hört die Vorbilder "Gluecifer", "Motörhead", "The Hellacopters", "Peter Pan Speedrock" und "Mustasch" deutlich heraus. Mit "Zodiac Killer Records" haben die Jungs genau das richtige Label gefunden und dort ihr letztes Album "Wasterd" sowie den neuen Longplayer "Strong Ties" veröffentlicht. Die Band hat in Polen unzählige Turbojugend Partys gerockt und nicht zuletzt auch in Deutschland mit ihren Shows für Furrore gesorgt. Die Band ist live ein absolutes Brett und wird in Zukunft mit Sicherheit noch hier und da auf sich aufmerksam machen. Mit dem Song MAGIC WOMAN haben Sie auf jeden Fall schon einmal einen Gassenhauer raus gehauen, der sich wie ein Wurm in dein Gehirn bohrt und nicht wieder raus will. VVK

Vorverkauf (VVK) zzgl. Geb. an jeder CTS(eventim)-Vorverkaufsstelle in Deutschland oder beim Eventbüro Stuttgart (im Wittwer, 1. Stock / Schloßplatz).
Versand per Post ebenso über www.eventbuero.com
Hardtickets bei Ratzer Records, Saturn, Flaming Star und Bonnie & Clyde in Stuttgart!
Weiterführende Links
https://youtu.be/1Q0yQQMBoh4 (Bloodlights)
https://youtu.be/bjkwIY6fytw "
https://youtu.be/-KVN4YsMZYk "
https://youtu.be/pyQOdA18Nt8 "
https://youtu.be/79zs5T_gbIU "
https://youtu.be/G_KOjE6hQ_g "
https://youtu.be/5iOTQuNNfU8 "
https://youtu.be/3lG_RrrbW_o "
https://youtu.be/h-G_Z2iB5GM "

https://youtu.be/Cmar91dSGiY (Poison Heart)
https://youtu.be/CMjRNNJe79s "
https://youtu.be/e1uMDejdzms "
https://youtu.be/7m1inDeBNIM "
Preis VVK: 12 Euro (ggf. zzgl. Gebühr)

Eingetragen von:
stuttgart rock promotion
Alle Angaben ohne Gewähr!
* Externer Verweis auf einen Ticketshop, welcher nicht von Motor City Rock betrieben wird!